Space Centre Bookings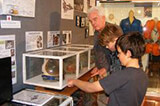 For individuals and small groups such as families, friends and parties of up to 30 people. Includes access to all displays and activities.
Book a private video meeting with Space Dave. Perfect for schools and education groups.
Group Bookings
Unfortunately, we are no longer doing school visits (please consider an online session instead).
For other types of group booking (more than 30 people), please contact us to discuss options.