Space Centre Bookings
NOTE: We are in the process of trying a new booking system. If you come back to this site later, you may find that the layout has changed. Sorry for any confusion.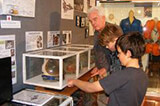 For individuals and small groups such as families, friends and parties of up to 20 people. To book a group of more than 20 people, please
contact us
. Unfortunately, we are not currently taking bookings for school field trips.
Book a private video meeting with Space Dave. Perfect for schools and education groups.